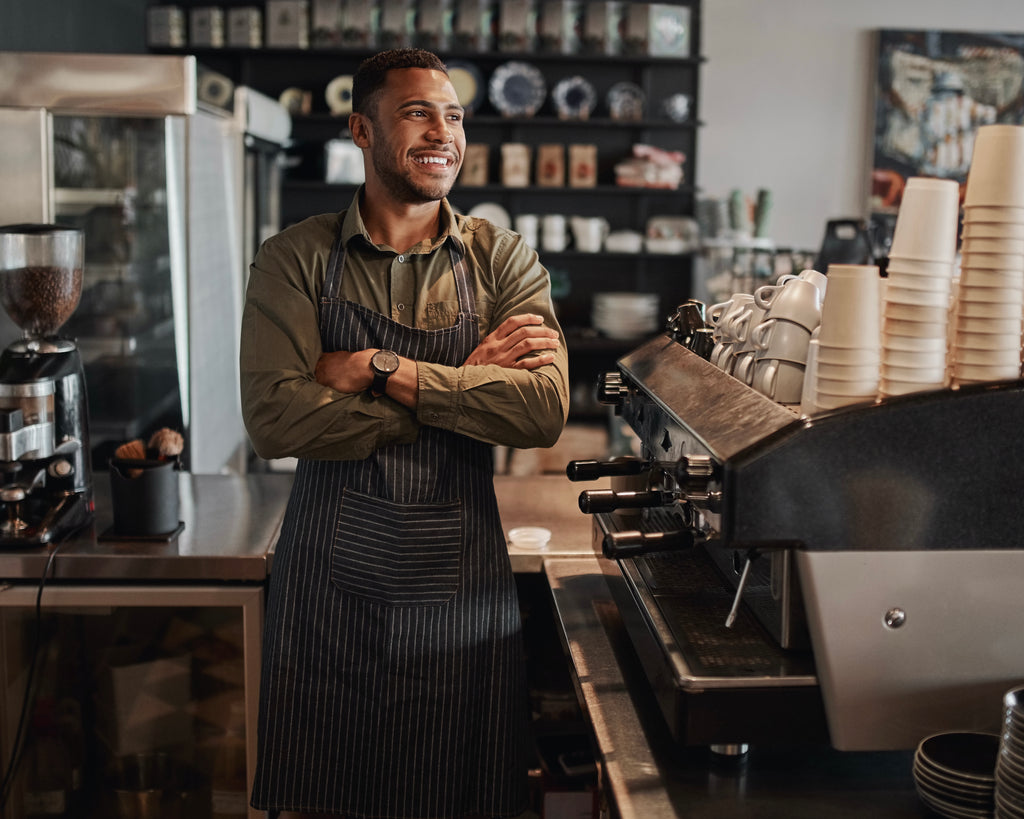 Gone are the days of heavily roasted coffees. Beans flavored with propylene glycol and coffee decaffeinated with methylene chloride should also be nearing their well deserved death. But they're not! They live on in well intentioned but unknowing cafes across the USA. Gross! Consumers want quality and they're willing to pay for it. 
There's a flourishing demand for quality in the coffee industry. According to consumer reports many coffee drinkers are wielding sophisticated palates and a thirst for information. Coffee connoisseurs and average Joes alike are becoming aware of what's in their coffee and they care about the social impact of their purchases. They're connecting on an emotional level to coffee farmers and coffee origins. Words like 'local', 'humane' and 'organic' are ubiquitous in today's coffee conversations. This is welcome news for coffee shops that have kept up with emerging trends, but for those who have had their head in the sand, beware. If consumers can't find what they want they'll be happy to go somewhere else.
There's a reason that large multinational companies are buying up specialty coffee roasters. Take for example Peet's Coffee parent company buying Chicago based Intelligentsia in 2014 and a year later Portland coffee behemoth Stumptown. Two years later Nestle bought a majority share of Blue Bottle Coffee, valuing the San Francisco Bay Area company at $700 million. All the while Starbucks CEO Howard Shultz has shifted his focus to building Starbucks Reserve, where a cup of joe costs upwards of $12. I can't believe where coffee is going. Where will it go next?
If second-wave coffee retailers don't adjust to consumer demands I predict them to become extinct within a few years. In Ventura, CA, where Calioh Coffee is located, we've seen numerous specialty cafes arise in popularity. Though Ventura has been slow to adopt to the new cafe culture, change is afoot.
Should their momentum continue on its course, the engaged third-wave cafes could dominate the coffee market. Sadly, many are sitting on the haunches prematurely basking in their evanescent success. The engaged few are out there making relationships, scouting talent and improving their brand at every opportunity. Believe me — we've rubbed elbows at past coffee events and they're fully engaged. They're sourcing the finest coffees and telling beautiful stories about it. Their mouth-watering signature beverage menus are often complimented by artisan baked goods and in-house small bites. Not to mention, their equipment is superior and their presentation artistic. They're killing it!
Aside from price, how can you compete? How will you? Do you have access to top tier coffee? Can you even evaluate a good coffee? Can you identify the value in PID controlled dual boilers? These are serious questions to ask yourself. Many coffee retailers that I visit are using "free" equipment. They're scorching their espresso; re-steaming old milk; serving month old cold brew; and shooing their customers away far ahead of closing time. You'll never compete.
You could compete on price, in a race to the bottom, or you can improve your quality and actually increase your prices. However, the learning curve is steep. You will need a well laid plan, or a good partner, to get ahead of the curve.
Perhaps this is where I plug the sales pitch, but I'll abstain for just one last paragraph while I warn of one more word of caution. Free isn't free. Dangling the 'free coffee equipment' carrot is tempting. Don't do it! Don't you wonder the value of a product that's given out for free? Just for serving a company's beans. Do you wander how much you're really paying for that equipment over time, and the limitation that "relationship" imparts on your ability to provide new menu options? I'm happy to guide that ROI calculation with anyone with a sharpened pencil. "Giving away" cheap espresso machines is the oldest trick in the book to con independent coffee retailers into committing to a lifetime of substandard coffee. And do you wonder why their coffee is always so dark. There's a reason for this, too. Dark roasts hide defects.
Award winning coffees for pour over and excellent blenders for batch brew and espresso are not hard to find for experienced coffee buyers. Exceptional coffee from Ethiopia, Rwanda, Sumatra, Guatemala and all other coffee growing regions can easily be found with a trained eye and experienced palate. And access to industry leading coffee equipment manufactures like La Marzocco and Mazzer should also not be difficult to procure. But access to resources like this, and other very simple tools, seem to be kept secret from many independent coffee retailers. Access to any one of these business-stimulating improvements can be obtained through a relationship with an engaged coffee partner who is invested in your success.
Cafe Culture in America is changing as we know it. Though COVID was a major detractor to many coffee business' revenue, it fortuitously allowed some coffee shop owners a chance to reinvent themselves. Those who haven't may be severely behind as America gets back to business. A purposeful coffee program will get you back in the game. With just a little work your coffee will be tasting its best while you reclaim your corner and reconnect with your customers.
Quality over quantity. Relationships over revenue. People over profit. These are the mantras of the new wave of coffee. It's the train that we're riding on and you should too. If you want some guidance then send us an email or pick up the phone. We'd love to talk shop with anyone who has the passion